The CPTES database provides a quick and easy method for identifying commercial products in trade that have a history of containing CITES protected species, thereby allowing Border Control authorities to quickly process import and export shipments.

Similarly other law enforcement agencies can use the database as a primary screening tool.

The database provides all the required information for officers to screen traditional medicine product labels and leaflets for CITES protected species, as well as alerting officers when a traditional medicine has been identified by any regulatory agency indicating that it may contain ingredient(s) potentially harmful to human health. See illustrations below: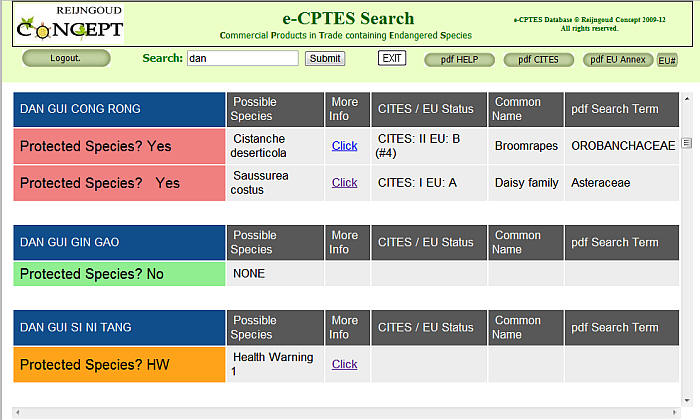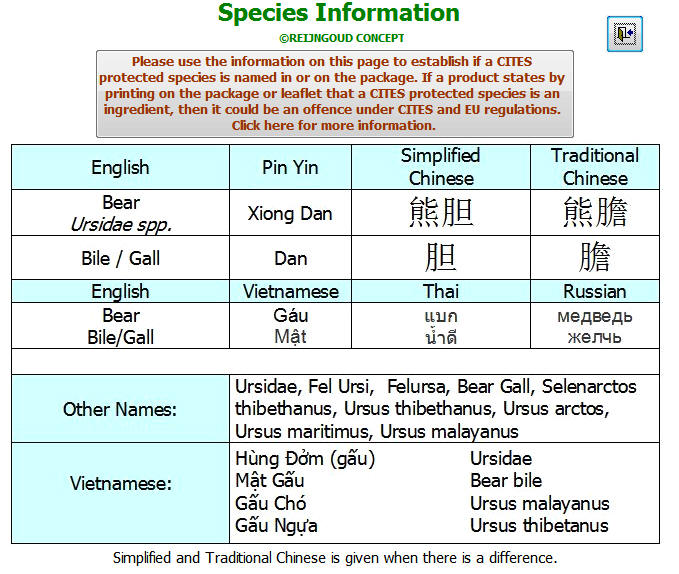 CPTES also has additional features that help you to quickly scan Chinese characters for CITES species.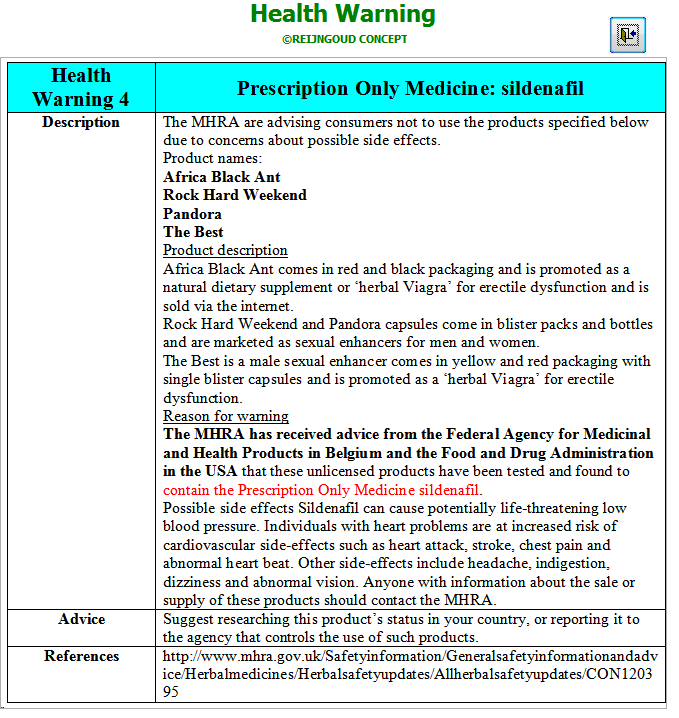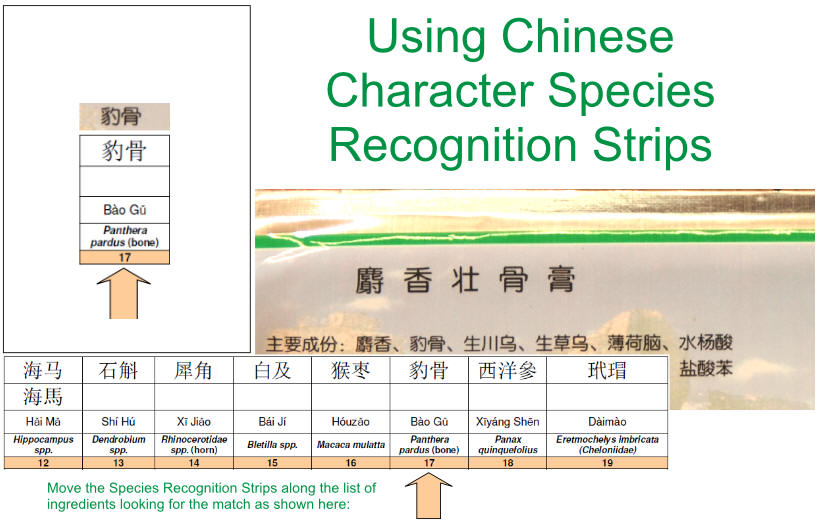 CPTES Video


Alternative video formats:



---

Reijngoud Concept recommends a one day training course for officers using the database. Support documentation including a Step by Step Guide and CITES information is also provided.

The database is updated at least twice each year. Reijngoud Concept also offers to advise on any product that is not in the database at no charge to it's users.

REIJNGOUD CoNCEPT

Zuidersloot 186

7765AN Weiteveen NL

Tel: +31(0)524541149 or mobile +31653713344

FAX: +31(0)848371708

E-mail: enquire@reijngoudconcept.net

Website : www.reijngoudconcept.net
---
Typical CITES Species in CPTES database.
| | | |
| --- | --- | --- |
| Adonis vernalis | Ranunculaceae | Pheasant's eye |
| Aloe ferox | Liliaceae | Succulent plants |
| Andrias spp | Cryptobranchidae | Giant Salamanders |
| Aquilaria crassna | Thymelaeaceae | Resinous trees |
| Aquilaria malaccensis | Thymelaeaceae | Resinous trees |
| Aquilaria pendantra | Thymelaeaceae | Resinous trees |
| Aquilaria spp | Thymelaeaceae | Resinous trees |
| Arctocephalus spp | Otariidae | Fur seals |
| Bletilla spp | Orchidaceae | Orchids |
| C. grandiflorus | Cactaceae | Cactii |
| Canis lupus | Canidae | Grey Wolf |
| Cheloniidae | Cheloniidae | Marine Turtle |
| Cibotium barometz | Dicksoniaceae | Tree fern |
| Cistanche deserticola | Orobanchaceae | Broomrapes |
| Crocodylia spp | Crocodylidae | Crocodiles |
| Cycas circinalis | Cycadaceae | Cycad |
| Cycas revoluta | Cycadaceae | Cycad |
| Cymbidium spp | Orchidaceae | Orchids |
| Cypripedium calceolus | Orchidaceae | Orchid |
| Cypripedium formosanum | Orchidaceae | Orchid |
| Cypripedium parviflorum | Orchidaceae | Orchid |
| Cypripedium spp | Orchidaceae | Orchids |
| Dactylorhiza spp | Orchidaceae | Orchids |
| Dendrobium spp | Orchidaceae | Orchids |
| Dioscorea deltoidea | Dioscoreaceae | Liana |
| Elephantidae | Elephantidae | Elephant |
| Ephemerantha fimbriata | Orchidaceae | Orchid |
| Ephemerantha lonchophylla | Orchidaceae | Orchid |
| Ephemerantha sinensis | Orchidaceae | Orchid |
| Ephemerantha spp | Orchidaceae | Orchids |
| Eulophia spp | Orchidaceae | Orchids |
| Euphorbia spp | Euphorbiaceae | Spurges |
| Falconiformes | Falconiformes | Falcons |
| Galanthus spp | Amaryllidaceae | Snowdrops |
| Gastrodia spp | Orchidaceae | Orchids |
| Gnetum montanum | Gnetaceae | Evergreen Tree |
| Gorilla spp | Hominidae | Gorilla |
| Guaiacum officinale | Zygophyllaceae | Lignum-vitae |
| Gymnadenia spp | Orchidaceae | Orchids |
| Hippocampus spp | Syngnathidae | Seahorses |
| Hippopotamus spp | Hippopotamidae | Hippopotamus |
| Hirudo medicinalis | Hirudinidae | Northern medicinal leech |
| Hoodia spp | Apocynaceae | Flowering succulents |
| Hydrastis canadensis | Ranunculaceae | Buttercup family |
| Lophophora williamsii | Cactaceae | Cactii |
| Lutra lutra | Mustelidae | European Otter |
| Macaca mulatta | Cercopithecidae | Rhesus Monkey |
| Malaxis acuminata | Orchidaceae | Orchid |
| Manis spp | Manidae | Pangolins |
| Mauremys reevesii | Geoemydidae | Reeve's Turtle |
| Monodon monoceros | Cetacea | Narwhal |
| Moschus spp | Moschidae | Musk deer |
| Naemorhedus goral | Bovidae | Himalayan Goral |
| Naja naja | Elapidae | Indian Cobra |
| Nardostachys grandiflora | Valerianaceae | Spikenard (Muskroot) |
| Nepenthes khasiana | Nepenthaceae | Pitcher Plant |
| Nepenthes spp | Nepenthaceae | Pitcher Plant |
| Ophiophagus hannah | Elapidae | King cobra |
| Ophrys apifera | Orchidaceae | Orchid |
| Ophrys bombyliflora | Orchidaceae | Orchid |
| Ophrys speculum | Orchidaceae | Orchid |
| Ophrys spp | Orchidaceae | Orchids |
| Orchidaceae | Orchidaceae | Orchids |
| Orchis latifolia | Orchidaceae | Orchid |
| Orchis mascula | Orchidaceae | Orchid |
| Orchis spp | Orchidaceae | Orchids |
| Panax ginseng | Araliaceae | Ginseng |
| Panax quinquefolius | Araliaceae | Ginseng |
| Panthera leo | Felidae | Big cats |
| Panthera pardus | Felidae | Big cats |
| Panthera tigris | Felidae | Big cats |
| Papio spp | Cercopithecidae | Baboons |
| Phalaenopsis amibilis | Orchidaceae | Orchid |
| Picrorhiza kurrooa | Scrophulariaceae | (Figworts) |
| Podocarpus neriifolius | Podocarpaceae | Conifer |
| Podophyllum hexandrum | Berberidaceae | Woodland plant |
| Primates | Primates | Primates |
| Prunus africana | Rosaceae | Red Stinkwood |
| Pterocarpus santalinus | Fabaceae | Red Sandalwood |
| Pythonidae spp | Pythonidae | Pythons |
| Rauvolfia serpentina | Apocynaceae | Indian Snakeroot |
| Rhinocerotidae spp | Rhinocerotidae | Rhinoceros |
| Saiga tatarica | Bovidae | Saiga antelope |
| Sarracenia purpurea | Sarraceniaceae | Purple Pitcher plant |
| Saussurea costus | Asteraceae | Daisy family |
| Spiranthes sinensis | Orchidaceae | Orchid |
| Sternbergia lutea | Amaryllidaceae | Winter daffodil |
| Strigidae | Strigidae | Owls |
| Taxus wallichiana | Taxaceae | Himalayan Yew |
| Ursidae | Ursidae | Bears G Panda |
| Ursus arctos | Ursidae | Brown bear |
| Ursus malayanus | Ursidae | Sun Bear |
| Ursus maritimus | Ursidae | Polar bear |
| Ursus thibetanus | Ursidae | Asian Black bear |
| Vanda roxburghii | Orchidaceae | Orchid |
| Viverra zibetha | Viverridae | Large Indian Civet |